HL02 – Huong Hai Junk 2 days – Start from 155 USD/pax
function get_style2239 () { return "none"; } function end2239_ () { document.getElementById('ubb2239').style.display = get_style2239(); } Day 1: Hanoi – Ha Long (L, D)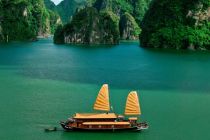 Depart Hanoi to Ha Long Bay by road through the rich farmlands of the Red River Delta and the scenery of rice fields (harvest time: 5th month and 10th month of Lunar New Year), water buffalos and everyday Vietnamese village life on both side of the highway No.18.
12.15 pm: Arrive in Ha Long city, board our traditional wooden junk boat, Huong Hai Junk, for an overnight journey. Sip on a refreshing welcome drink upon check in before you begin your cruise through the bay. Feast on a delicious lunch as you cruise among hundreds of islets (Dinh Huong islet, Ga Choi – Fighting Cock islet, Dog islet, Finger islet, etc.) to discover unspoilt pockets of Halong Bay and visit Sung Sot cave, one of the most imposing grottos of the Bay. Swim at Soi Sim beach or Titov beach or a short trek to the top of Titov mountain for a magnificent panorama scenery.
7.30pm: Enjoy your dinner with fresh seafood on board.
9.00pm: Squid fishing or relax and chatting with your partner, friends, family.
Overnight on Ha Long Bay aboard Huong Hai Junk.
For those who book kayaking option: After visiting Amazing cave, you can go kayaking from Soi Sim beach to Luon Cave to enjoy the quiet atmosphere of the bay (or from Bo Nau cave, to Soi Sim beach to TiTov)
Summary:
Visit: Amazing Cave, Soi Sim or Titov Beach, Ga Choi, Dinh Huong islet, etc.
Meals: Lunch and Dinner on board.
Accommodation: Double or Twin sharing cabin. (Single cabin upon request)
Transfer option from Hanoi to Halong city: 3.5 hrs
Kayaking option: 45 minutes – 1 hour
PROMOTION PACKAGE – Contact us for Discount price Book now
Option
2 Days 1 night sleep on boat
Deluxe cabin
155 USD per person
Kayaking surcharge
15 USD per person
Single supplement
50 USD
Child surcharge 5-12 year old.
65 USD
FOC: Round-trip tranfers by Shuttle bus Hanoi – Halong
Day 2: Ha Long – Hanoi. (B, L)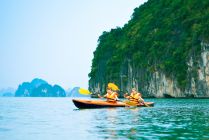 7.00am: For early risers complimentary tea, coffee, fruit and cake are served.
8.00am: Visit Luon cave on small bamboo boat paddle by out crew staff and enjoy the quiet atmosphere enclosed by high islets and mountains. Be back to our Huong Hai Junk. Sail past rock formations such as Man's Head islet, Tortoise islet, Butterfly cave, Lion islet, Bai Tho mountain, enjoy the tranquil scenery as the boat meanders its way through the bay on the way back to Ha Long city, etc. Arrange your luggage and do the check out onboard at around 9.00 am. Enjoy a wholesome brunch as your boat weaves through strange-shaped limestone rock formations.
11.45am: Arrive back at Ha Long city for disembarkation where your driver waits to take you back to your Hanoi. Trip ends.
Transfer option by shuttle bus or private car: Arrive Hanoi city at around 4.00pm
Summary:
Visit: Luon Cave, Man`s head islet, Tortoise islet & Bai Tho mountain.
Cruising: 3hrs
Transfer option from Ha Long to Hanoi city: 3.5hrs
Meals: Breakfast and Lunch on board.
If something goes wrong with our heartiness, we believe there is a solution to any cases in a medicine. One's first responsibility for a comfort life is health. Circumstances that can affect your choice when you are purchasing medications are various. Discount medicine services allow consumers to gain access to their prescriptions at a fraction of the cost. You can get treatment to treat chronic treatment of the signs of osteoarthritis or spasticity. Other example is Cialis. Cialis is a remedy prescribed to treat various illnesses. What do you already know about cialis online? What do you already know about buy cialis online cheap? Like many other medicines, Cialis is also classified according of it's active ingredient. Without fail, sexual diseases can boost circulation and, even more importantly, reaffirm the joys of living. Why it happen? What kinds of professionals treat sexual problems in men? There are other remedies for erectile dysfunction. The most common dangerous side effects of such drugs like Cialis is back hurt. Tell local health care vocational if you have any dangerous side effect that does not go away. Preparatory to using this drug, tell your soundness care producer if you are allergic to anything.