Great Hotel for a decent price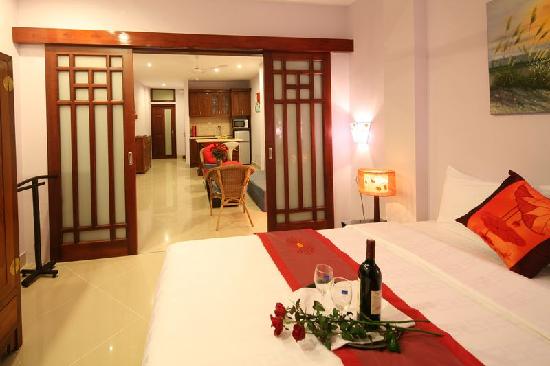 This is my third time staying at the Rising Dragon Estate and each time has been simply great. The following review is for one of the X02 rooms (i.e., 302, 702, etc).
Room: You get a separate bedroom, living room and bath room. The living room has many windows and the A/C unit, while the bedroom only has a fan and a glass tiles that look out into the room's hallway/living room. The living room also has its own "kitchen" unit inclusive of water boiler, sink & faucet and full size fridge. Also in the living room is a small desk and chair with monitor and even a laptop (although I never used it, since I have always had my own). Aside from that the living room contains a small coffee table and a few chairs. The bedroom also contains an armoire. The mattress may be a bit on the hard side, but it's a nice comfortable spring mattress nonetheless. The bathroom has a glass-wall shower stall and guests are provided all sorts of toiletries ranging from shampoo to Q-tip to toothbrush to comb, etc.
Cleanliness: It's hard to find any faults with respect to cleanliness of the room, the sheets, the bathroom, etc. Floors are all tile and reflect the lights on the ceiling – that's how clean they are.
Staff: Extremely friendly and willing to help you with almost anything, whether it's getting up and greeting you even while eating lunch, running to make you photocopies at the nearest shop, call places/taxis, etc. They even hold the door for you and offer you an umbrella when it's raining.
Hotel Amenities: The breakfast is nice, but nothing amazing. Aside from the mini-buffet with fruits and small pastries as well as coffee, water and pressed juices, you can order omelets or noodle soup. The taste is not too bad, but not that great either. If you happen to end up at the wrong Rising Dragon Hotel, they will call a cab and drive you there on their bill. Wifi is free and available from separate routers on every floor (important if you want to access the internet from more places than just the lobby and the first floor as in other hotels). I think they also have airport pick-up as I saw one of their signs when I arrived, but I don't know what the costs are (metered Taxi should be around 300k-350k). I think there's also someone in the lobby that can help with travel planning, but I didn't look too closely.
Location: Right by the Hang Da (pronounced Hang Ya) market and in walking distance of places like An Ngon Restaurant or the Rooftop in one direction and the old quarter in the other direction, the location of the hotel is quite nice. It's also 2 minutes from the Bun Bo Nam Bo noodle place. Sitting near the edge of the old quarter is also a good thing, if you need to go to other places outside the old quarter and don't want to sit through the traffic in its busy, tiny streets. At the same time it's close enough to walk to most places in the old quarter.
Price: Decently priced for what you get at $35ish for a single room, but this time i found a deal on agoda.com which offered a 20% discount making this place a steal!