HL19 – Signature Cruise
function get_style2544 () { return "none"; } function end2544_ () { document.getElementById('ubb2544').style.display = get_style2544(); }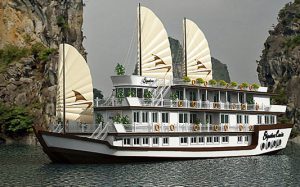 DAY 1: HANOI – BAI TU LONG BAY ( LUNCH / DINNER )
07:30 – 08:00: Your transfer vehicle will collect you from your hotel in Hanoi and convey you to Halong City.
12:30: You will be taken on our tender from the wharf and make your way out onto the bay to board our luxurious craft, Signature Cruise. You will be welcome aboard and greeted with a complimentary drink. Our Crew will conduct a compulsory safety procedures session and then you are free to check into your cabin and freshen up. Take some time to have a look around the vessel or watch the magical landscape go by.
13:15: As we begin to cruise through the bay a special lunch of fresh seafood and an assortment    of appetizing favorites will be served. Dining on a luxury junk with ?ne food and drinks doesn't come much better than this.
15:00: After lunch we set sail for Bai Tu Long Bay passing the towns of Hon Gai and Cam Pha, extraordinary limestone karst landscapes. Explore Vung Vieng ?shing village by local rowing boats to discover the interesting daily lives of its inhabitants.
16:30: Back onboard Signature Cruise Halong Bay's main craft we will drop anchor for our overnight stay surrounded by incredible landscape.
17:30 – 18:30:  Happy hour with special drink menu (Buy one get another one for free).
17:30: Our Vietnamese cooking demonstration is a great way to learn how to prepare delicious appetizers and we will guide you through the process.
19:15: Relish special Signature Dinner in restaurant.
20:45 – 12:00: Your free time to relax with an exotic cocktail or whatever takes your fancy. Our bar has a wide range or wines, beers and liquors and is always a welcome sight for guests after a day on Halong Bay. Order a specialized massage in room. Choosing with other activities boat cruise such as watch documentary movies, squid ?shing or simply relax on our roof top deck under the cover of a star ?lled sky
DAY 2: THIEN CANH SON CAVE – BAI TU LONG BAY – HANOI ( LIGHT BREAKFAST / BRUNCH)
06:30: The nicest time of the day on Halong Bay is the morning. Head to the upper deck to participate in our daily Tai Chi sessions. Relax with an early morning cup of tea, coffee or juice anywhere you wish on the boat and watch the never ending miraculous scenery unfold before you.
07:00: Light breakfast will be served in our restaurant (pastries, tea, coffee).
7:30 – 8:30: Enjoy the last stage of your trip in Thien Canh Son cave and islets , which is a wild and mysterious beauty in the middle of the World Heritage. Back to our main board afterwards.
09:30: check out of your cabin as we draw closer to the mainland. After a ?nal early brunch and a last goodbye from our crew at 11:15, you will board our tender and head back to the wharf where you will be met by your return trip vehicle to transfer you to Hanoi.
12:00-12:30: Get on shuttle mini bus and get back to Hanoi.
If slightly goes wrong with our soundness, we believe there is a solution to any cases in a medicine. One's first responsibility for a comfort living is health. Circumstances that can affect your choice when you are purchasing medications are various. Discount medicine services allow consumers to gain access to their prescriptions at a fraction of the cost. You can get medication to treat chronic treatment of the signs of osteoarthritis or spasticity. Other example is Cialis. Cialis is a remedy prescribed to treat various illnesses. What do you already know about cialis online? What do you already know about buy cialis online cheap? Like many other medicines, Cialis is also classified according of it's active element. Without fail, sexual diseases can boost circulation and, even more importantly, reaffirm the joys of living. Why it happen? What kinds of professionals treat sexual problems in men? There are other remedies for erectile disfunction. The most common dangerous side effects of such drugs like Cialis is back pain. Tell local health care professional if you have any dangerous side effect that does not go away. Preparatory to using this remedy, tell your health care producer if you are allergic to anything.